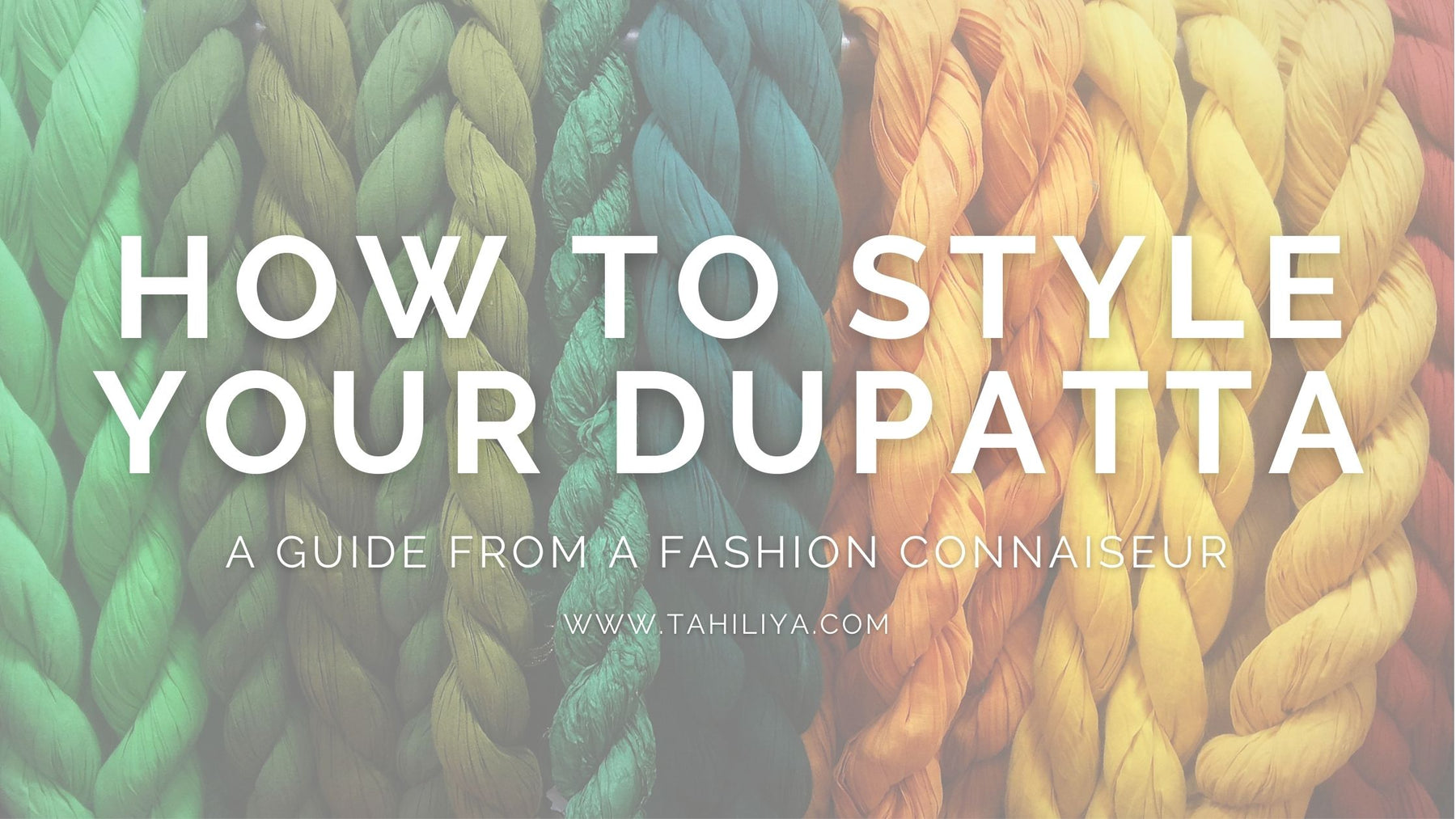 How to style your Dupatta
As the festivals come closer, the need to wear a perfect traditional dress brings up new trends. Ladies are always in search of a new way to style their festival outfits as per the fashion and trends. But traditional Indian dresses are incomplete without gracefully carrying a Dupatta. You can make your dress look fashion-forward if you know how to drape your Dupatta the right way and what material to choose.
In this blog, we will explore how you can style your Dupatta in the most charming way. So, let's discover how to make a fashion statement with your Dupatta. Here are some easy ways to do it.
1.  Let It Free from Your Shoulders—Try It with Chiffon Dupatta
Chiffon is light and soft. Carrying it around does not feel uncomfortable. That is why a Chiffon Dupatta creates a stylish and sober look when you let it loose from your shoulders, covering your front bodice. It is a simple and stylish way to drape your Dupatta and looks very pretty when you pair it with cotton Kurtas.  
2. Gather It in Pleats—Try with a Cotton Chanderi Dupatta 
Chanderi cotton is an ideal fabric for your festival wears, and Chanderi cotton Dupattas bring a very royal look to your outfit. If you have a light-colored Chanderi cotton dress, a bright-colored Chanderi cotton Dupatta, gathered in pleats over one shoulder will make you look like a queen. This look suits long Kurtas the most.
3. Hang It on One Shoulder and Wrist—Try It with an Organza Dupatta 
Organza Dupatta, especially if it is bordered with a beautiful lace will look amazing if you hang it on one shoulder in front, drape the other end behind, bring it in front of your wrists, and pin it there.
This is a very comfortable look and will go perfectly with your Anarkali dresses.
4. Drape It in a Side Cowl—Try It with A Cotton, Chiffon, Or Block-Printed Dupatta
It is the most casual way to carry your Dupatta. Pin it loose on one shoulder and hold the other end on the wrist in gathers. This style will look very elegant with a Chiffon, block-printed, or cotton Dupatta. Wear this style on casual Kurtas and show off a beautiful look.
5. Simply Drape It Around—Try It with Organza or Chikankari Dupatta
You can simply drape your Dupatta around your shoulders and it will look royal and elegant. It is best suited for Chikankari, Cotton, or Organza Dupatta. This look can suit both casual and traditional outfits.  Just pick one end of your Dupatta on your left shoulder, and wrap the other end around your second shoulder. You can leave it there or pin the other end on the right shoulder.
Are you done reviewing all the styling techniques for draping your Dupatta? Next is to apply these techniques to create a ravishing look. At Tahiliya, we have a wonderful Dupatta collection, comprised of Organza, Kota Doria, Chanderi Cotton, Chiffon, and block-printed Dupattas. Shop from our store now and bring these beautiful looks to life!