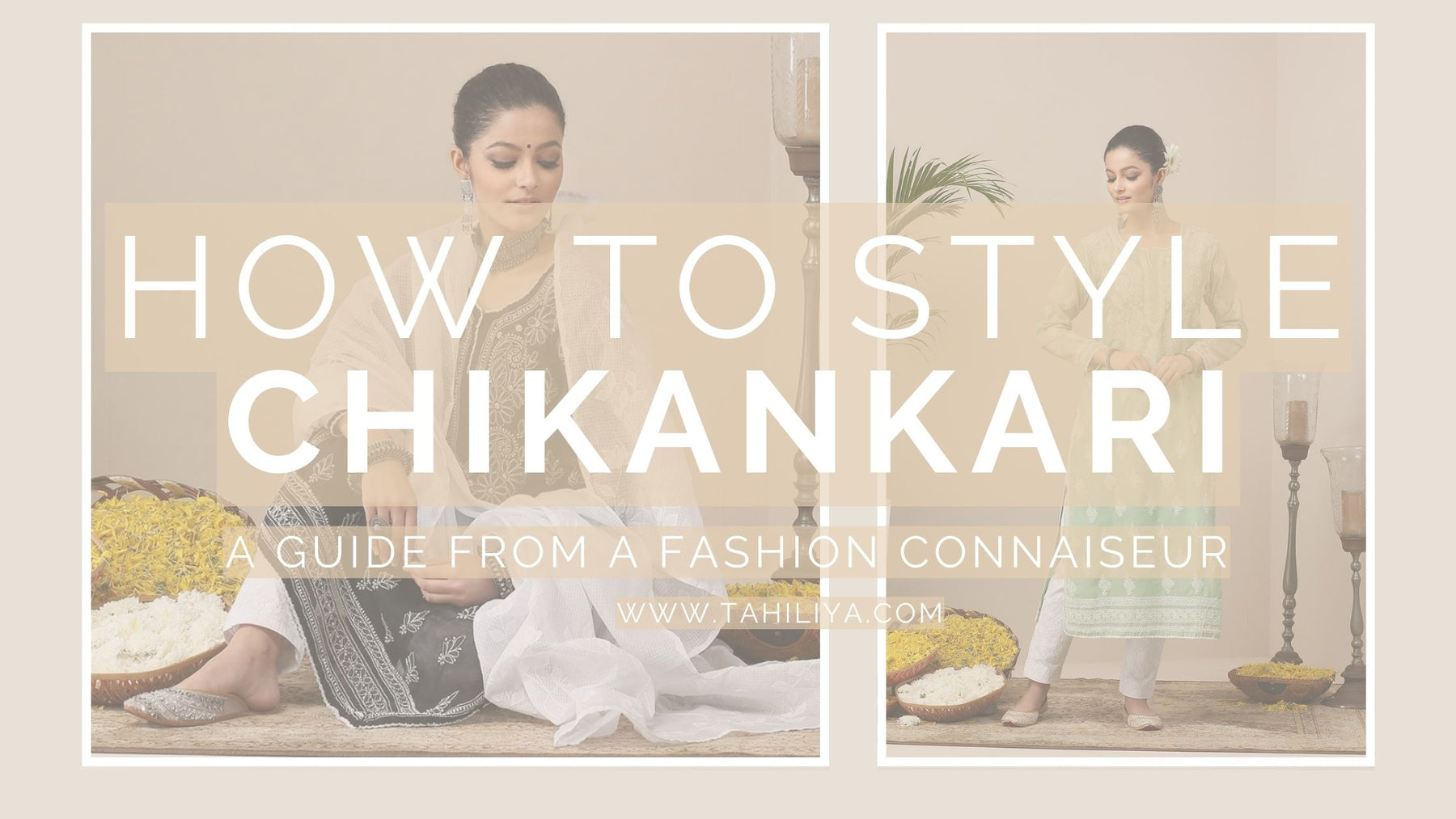 How to Style Chikankari Kurtas
Chikankari Kurtas are one of the most elegant and timeless pieces of Indian traditional wear. Originating from the northern state of Uttar Pradesh, Chikankari is a type of embroidery that involves delicate and intricate needlework on lightweight cotton fabrics. The embroidery typically features floral patterns, vines, and paisleys, and is often done in white thread on white fabric. Chikankari Kurtas can be styled in a variety of ways, from simple and casual to more formal and dressy.
In this blog, we'll explore some tips and tricks for styling chikankari kurtas.


1. Keep it simple
Chikankari kurtas are already intricate and detailed, so it's best to keep the rest of your outfit simple. Pair your kurta with neutral bottoms like white pants or leggings, and avoid adding too many accessories or bright colors that might clash with the delicate embroidery.

2. Play with contrasts
While it's important to keep your outfit simple, you can still have fun with contrasting colors and textures. For example, pair a white chikankari kurta with black pants or a black dupatta for a classic and sophisticated look. Alternatively, you can mix and match different fabrics and textures, like pairing a cotton chikankari kurta with a silk or chiffon dupatta.

3. Add some bling
Chikankari kurtas are often worn for special occasions like weddings and festivals, so it's perfectly acceptable to add some bling to your outfit. Consider pairing your kurta with a statement piece of jewelry like a chunky necklace or chandelier earrings. Just make sure that your accessories don't overpower the delicate embroidery of your kurta.

4. Experiment with layering
Chikankari kurtas are lightweight and airy, which makes them perfect for layering. You can layer your kurta over a tank top or camisole for a more casual look, or add a jacket or blazer for a more formal occasion. You can also experiment with different types of jackets and blazers, like a denim jacket or leather blazer, to add some edge to your outfit.

5. Play with different styles
Chikankari Kurtas come in a variety of styles, from long and flowy to short and fitted. You can experiment with different styles to find the one that suits your body type and personal style. For example, a long and flowy Kurta might look great on someone who is tall and slender, while a shorter, more fitted kurta might be more flattering on someone who is shorter or curvier.

6. Footwear steals the show
Your choice of footwear can also make a big difference in how you style your Chikankari Kurta. For a more casual look, you can pair your Kurta with flat sandals or sneakers. For a more formal occasion, you can opt for heels or dressy sandals. Just make sure that your footwear complements your outfit and doesn't clash with the delicate embroidery of your Kurta.


In conclusion, Chikankari Kurtas are a versatile and elegant piece of traditional Indian wear that can be styled in a variety of ways. Whether you prefer a simple and casual look or a more formal and dressy outfit, there are plenty of ways to style a Chikankari Kurta that suits your personal style and body type. By keeping these tips and tricks in mind, you can create a chic and sophisticated outfit that celebrates the beauty and intricacy of this timeless embroidery technique.